Published: May 1st, 2013
Revised: May 1st, 2013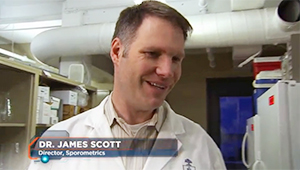 Tune in to Daily Planet April 30th, 2013 at 7 PM EDT on the Discovery Channel to watch our Sporometrics guys swabbing pets and people to find out how much of our microbiome we share with our companion creatures.
The segment, hosted by microbiologist and puppy enthusiast Dr. Jennifer Gardy from BCCDC, will feature our dogs, Aurora and Rawley, Dr. Richard Summerbell's dog Fleefus (the best-behaved) and our protesting kitten, Tunafish Betty, along with Richard himself, Yordanka Guardiola and (a very reluctant) Ed Hollis.
Everyone had a blast, particularly the dogs. And even after a day of dog slobber, our hands remained surprisingly free of microbes!
Published: March 24th, 2013
Revised: March 24th, 2013
In the summer of 2012, a significant outbreak of Legionnaires Disease occurred in Quebec City resulting in 181 cases and 13 deaths.
This week, the CBC's premier French language investigative documentary program, L'Enquête, examined the public health response to the outbreak. L'Enquête spoke with Dr. Scott to learn about Legionella and the issues around its management.
Published: February 11th, 2013
Revised: February 11th, 2013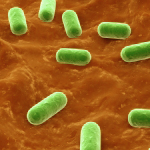 In a study just published in the Canadian Medical Association Journal (CMAJ), Dr. James Scott and colleagues at the University of Toronto, the University of Alberta and elsewhere investigated the bacterial make-up of faeces from 24 three-month-old babies and found that the way the babies were delivered (vaginal or C-section) and whether the babies are breast-fed has a significant effect on the microbes in their guts.
"Our findings are particularly timely given the recent affirmation of the gut microbiota as a "super organ" with diverse roles in health and disease, and the increasing concern over rising cesarean delivery and insufficient exclusive breastfeeding in Canada", said Dr. Anita Kozyrskyj, who along with Dr. Scott are the principal investigators on the project.
Published: September 3rd, 2012
Revised: October 15th, 2012
Baudoinia companiacensis is a hip, cool fungus that likes booze. It grows in places where there's alcohol is in the air – around spirit maturation warehouses and even near bakeries – and in the process, it makes a nuisance of itself by turning stuff black.
At Sporometrics, we are the world experts on this interesting fungus: we named it, we were the first to figure out how to isolate it, and we've developed sophisticated methods to detect it in the environment. We are the only group in the world that can provide these testing services. We've also done a lot of research aimed at figuring out how and why it likes booze.
Recently our expertise with this fungus was tapped in relation to a series of legal cases involving residents around spirit warehouses fed up with the fungus blackening their propery. Dr. Scott was interviewed by the New York Times about the biology of Baudoinia and how alcohol is involved in its growth.
Published: August 31st, 2012
Revised: September 4th, 2012
Sporometrics recently expanded our prestigious American Industrial Hygiene Association (AIHA) accreditation to include all fields of testing (FOTs): FUNGI, BACTERIA and LEGIONELLA. This is in addition to our recent Legionella accreditation from the US CDC.
Environmental Microbiology Laboratory Accreditation Program (EMLAP) of the American Industrial Hygiene Association represents the single most comprehensive and widely recognized international credential in the performance of environmental microbiological laboratory analyses of a range of matrices from the built environment.
Our dedication to the ongoing and rigorous quality assurance practices mandated by this accreditation represents our continued commitment to you and your clients. We thank you for your business and value your suggestions as we continue to improve the quality of our services.