Published: April 9th, 2019
Revised: April 9th, 2019
Côte d'Ivoire lethal yellowing (CILY) is a devastating disease associated with phytoplasmas and has recently rapidly spread to several coconut-growing areas in the Country. Phytoplasmas are phloem-restricted bacteria that affect plant species worldwide. These bacteria are transmitted by plant sap-feeding insects, and their cultivation was recently achieved in complex artificial media. In this study, phytoplasmas were isolated for the first time from coconut palm trunk borings in both solid and liquid media from CILY symptom-bearing and symptomless coconut palms. The colony morphology, PCR and sequencing analyses indicated the presence of phytoplasmas from different ribosomal groups. This study reports the first biochemical characterization of two of these phytoplasma isolates. Moreover, a disc-diffusion antibiotic susceptibility assay revealed that these bacteria exhibit tobramycin susceptibility and cephalexin hydrate and rifampicin resistance. Urea and arginine hydrolysis, and glucose fermentation tests that were performed on colonies of phytoplasmas and Acholeplasma laidlawii indicated that both phytoplasmas tested were negative for urea and positive for glucose and arginine, whereas A. laidlawii was positive for glucose and negative for urea and arginine. The growth of coconut phytoplasmas in both solid and liquid artificial media and the biological characterization of these isolates are novel and important advancements in the field of disease management and containment measures for the CILY disease. The characterization of isolated phytoplasmas will allow for more efficient management strategies in both the prevention of a coconut phytoplasma epidemics and the reduction of the economic impact of the disease in the affected areas.
Published: January 28th, 2019
Revised: January 29th, 2019
First report of the identification of a 'Candidatus Phytoplasma pruni'-related strain of phytoplasma in Melothria pendul
In 2017, Sporometics participated in the Canadian AgriTech Mission to Brazil led by Global Affairs Canada and NRC-IRAP. We are pleased to announce Sporometrics' first collaborative publication with these partnerships can now be read in the journal Plant Pathology.
Sporometrics own plant pathologist expert, Dr. Yaima Arocha-Rosete, along with Dr. Helena Guglielmi Montano of the Entomology and Plant Pathology Department, Universidade Federal Rural do Rio de Janeiro (UFRRJ), have been working on describing the Guadeloupe cucumber as a new host plant for phytoplamsa infection. In Brazil, photoplasma has already been associated with causing disease in the cassava plant. Identifying new crops as a potential host for phytoplasma infections has been an ongoing concern in the agricultural sector. Across the world, phytoplasma infected crops have left their devastating impact on the agricultural economy. Sporometrics continuing efforts in studying infected coconut crops in the Ivory Cost in addition to these new research opportunities in Brazil may lead us in the right direction to combat plant diseases.
You can read the full publication in Plant Pathology Here
Published: April 11th, 2017
Revised: April 11th, 2017
Sporometrics' crop sampler (the Spornado) was featured in Spudsmart Magazine the Spring 2017 issue. Eugenia Banks worked with the Potato board during the growing season of 2016 to test the Spornado's ability to detect late blight.
Published: March 10th, 2017
Revised: February 23rd, 2023
On March 17, 2016, TPH (Toronto Public Health) declared an outbreak of Group A Streptococcus in Toronto's largest homeless shelter.
The Group A Streptococcus (GAS) bacterium can cause many different infections that range from minor illnesses (strep throat, scarlet fever) to very serious and deadly diseases (post-streptococcal glomerulonephritis) that can lead to flesh-eating disease, meningitis or sepsis.
Although the number of infected persons were declining from the beginning of the outbreak in March to September, TPH were still finding new carriers of the bacterium from routine screenings of both employees of the shelters as well as their patrons. The first attempt to mitigate the outbreak was unsuccessful due to the lack of eliminating the environmental reservoir, the homeless shelter itself – as like with many bacteria, GAS can survive on hard surfaces touched by infected persons.
Sporometrics was pleased to lend our efforts to aid in the containment of this outbreak by determining the presence of GAS in various places to target the problem areas of infection such as the lockers, cots, tables and floors for proper cleaning and disinfection.
Published: September 29th, 2014
Revised: September 29th, 2014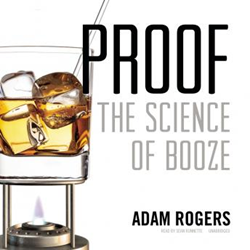 In a follow-up to Adams' WIRED article "The Angel's Share", the Distillation chapter of Proof tells the story of how Sporometrics' Dr. James Scott found himself studying mycology and delves deeper into the mystery of the whiskey fungus he investigated.
Proof expands upon Adam Rogers' 2011 WIRED magazine article "The Angel's Share"; the story of Sporometrics' Dr. James Scott's discovery of not just a new species, but a completely new genus of fungi, identified on trees, street signs, and buildings surrounding whiskey warehouses in Lakeshore Ontario, then around distilleries across the globe. The unmasking of the whiskey fungus Baudoinia compniacensis is just one of dozens of tales Rogers tells as he uncovers the science of alcohol production, powered by physics, molecular biology, organic chemistry, and a bit of metallurgy-and our taste for the products is a melding of psychology and neurobiology.