Published: February 11th, 2013
Revised: July 21st, 2014
Background:
The gut microbiota is essential to human health throughout life, yet the acquisition and development of this microbial community during infancy remains poorly understood. Meanwhile, there is increasing concern over rising rates of cesarean delivery and insufficient exclusive breastfeeding of infants in developed countries. In this article, we characterize the gut microbiota of healthy Canadian infants and describe the influence of cesarean delivery and formula feeding.
Methods:
We included a subset of 24 term infants from the Canadian Healthy Infant Longitudinal Development (CHILD) birth cohort. Mode of delivery was obtained from medical records, and mothers were asked to report on infant diet and medication use. Fecal samples were collected at 4 months of age, and we characterized the microbiota composition using high-throughput DNA sequencing.
Results:
We observed high variability in the profiles of fecal microbiota among the infants. The profiles were generally dominated by Actinobacteria (mainly the genus Bifidobacterium) and Firmicutes (with diverse representation from numerous genera). Compared with breastfed infants, formula-fed infants had increased richness of species, with overrepresentation of Clostridium difficile. Escherichia–Shigella and Bacteroides species were underrepresented in infants born by cesarean delivery. Infants born by elective cesarean delivery had particularly low bacterial richness and diversity.
Interpretation:
These findings advance our understanding of the gut microbiota in healthy infants. They also provide new evidence for the effects of delivery mode and infant diet as determinants of this essential microbial community in early life.
Published: February 11th, 2013
Revised: February 11th, 2013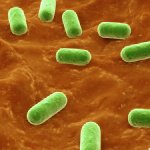 In a study just published in the Canadian Medical Association Journal (CMAJ), Dr. James Scott and colleagues at the University of Toronto, the University of Alberta and elsewhere investigated the bacterial make-up of faeces from 24 three-month-old babies and found that the way the babies were delivered (vaginal or C-section) and whether the babies are breast-fed has a significant effect on the microbes in their guts.
"Our findings are particularly timely given the recent affirmation of the gut microbiota as a "super organ" with diverse roles in health and disease, and the increasing concern over rising cesarean delivery and insufficient exclusive breastfeeding in Canada", said Dr. Anita Kozyrskyj, who along with Dr. Scott are the principal investigators on the project.