Published: September 29th, 2014
Revised: September 29th, 2014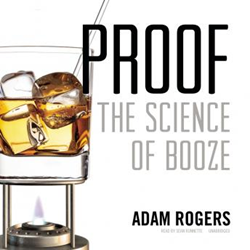 In a follow-up to Adams' WIRED article "The Angel's Share", the Distillation chapter of Proof tells the story of how Sporometrics' Dr. James Scott found himself studying mycology and delves deeper into the mystery of the whiskey fungus he investigated.
Proof expands upon Adam Rogers' 2011 WIRED magazine article "The Angel's Share"; the story of Sporometrics' Dr. James Scott's discovery of not just a new species, but a completely new genus of fungi, identified on trees, street signs, and buildings surrounding whiskey warehouses in Lakeshore Ontario, then around distilleries across the globe. The unmasking of the whiskey fungus Baudoinia compniacensis is just one of dozens of tales Rogers tells as he uncovers the science of alcohol production, powered by physics, molecular biology, organic chemistry, and a bit of metallurgy-and our taste for the products is a melding of psychology and neurobiology.
Published: March 16th, 2014
Revised: July 21st, 2014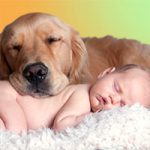 Using cutting edge high through-put DNA sequencing, Sporometrics CEO Dr. James Scott and his colleagues investigated the bacterial make-up of faeces from young babies and the homes where the babies lived.
Scott's group found a significant overlap in bacterial communities in a baby's faeces and dust from their home, suggesting that a baby may be sharing their gut bacteria with the environment and vice versa.
This finding may have long-ranging implications on how our environments may influence our lives. How much of a personal imprint do we leave on our home? When we move to a new home, does the microbial imprint of the former occupants have the potential to affect us? And are these effects good or bad? Sorting out these interesting questions will be the focus of Scott's future research.
Reference: Konya T, Koster B, Maughan H, Escobar M, Azad MB, Guttman DS, Sears MR, Becker AB, Brook JR, Takaro TK, Kozyrskyj AL, Scott JA, and the CHILD Investigators. 2014. Associations between bacterial communities in house dust and infant gut. Environmental Research 131: 25-30. doi: 10.1016/j.envres.2014.02.005.
Published: July 26th, 2011
Revised: July 26th, 2011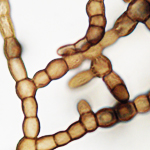 The US Department of Energy Joint Genome Institute (JGI) today released the full, annotated genome sequence of Baudoinia compniacensis, a fungus we discovered that was featured in the June 2011 issue of WIRED MAGAZINE. This extremophilic sooty mold is the prominent pioneering species in the primary successional community known as "warehouse staining", where darkly pigmented microbes form dry biofilms on outdoor surfaces periodically subjected to low level exposure to ethyl alcohol vapour, such as those around distilleries, spirit maturation facilities ("bond warehouses") and commercial bakeries. Sporometrics worked closely with JGI throughout the project, developing protocols and supplying high quality genomic DNA and total RNA for the sequencing project.
Published: November 4th, 2010
Revised: July 14th, 2011
There is always joy in the laboratory when a brand new mould identification book appears. When the book has hundreds of colour photos to help with fungal identification, it is especially celebrated.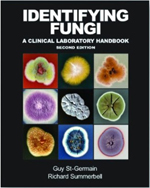 Eyes widened around here when we brought in the first copies of Identifying Fungi, by Guy St.-Germain and our own Research Director, Richard Summerbell. This book is so new that its copyright date is listed as 2011. It is the follow-up second edition to the same authors' highly successful Identifying Filamentous Fungi from 1997. It differs from the previous edition not just in being updated with all the new fungal names and new clinical and ecological information, but also in documenting the major medically important yeasts for the first time. The well illustrated sections on 'Methods' and 'Culture Media and Stains' have also been upgraded to include yeast-related information alongside recently developed practical methods for filamentous fungi. The only molecular techniques documented are the few that are well established as part of the medical mycology routine, e.g., probe tests for dimorphic fungi.
This 377-page book includes 239 pages of illustrated descriptions of medically important fungi plus all the common airborne fungi that grow as contaminants from biomedical samples. Some important genera such as Aspergillus and Trichophyton have species-level descriptions, but this is predominantly a book for identifying fungi at the genus level. There are dichotomous keys to the genera, plus an illustrated key based on colours and shapes. The descriptions themselves emphasize easy-to-read bullet points. The book also includes an explanatory introduction, a glossary of terms, information on safety and quality control, and extensive documentation of methods. A bibliography of advanced and alternative literature is given. Clade associations are noted for each species to help those who need to interpret molecular results (e.g., GenBank blast searches). The robust binding is made to allow the book to lie flat on the benchtop, facilitating use. What looks like it should be a $175 technical book actually sells for under $100.
Identifying Fungi, A Clinical Laboratory Handbook, Second Edition, 2011
Guy St.-Germain & Richard Summerbell
Star Publishing Co. Ltd., Belmont, CA, USA
ISBN 978-08986-311-5
Published: August 19th, 2010
Revised: November 5th, 2014
We are delighted to announce that Sporometrics has recently become
fully accredited to the ISO/IEC 17025:2005 standard by the
American Industrial Hygiene Laboratory Accreditation Program (AIHA-LAP, LLC).
Accreditation represents the single most comprehensive and
widely recognized international credential in the performance of
environmental microbiological laboratory analyses of a range of
matrices from the built environment.
Our dedication to the ongoing and rigorous quality assurance practices
mandated by this accreditation represents our continued commitment to
you and your clients. We thank you for your business and value your
suggestions as we continue to improve the quality of our services.