Published: December 5th, 2009
Revised: February 23rd, 2023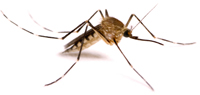 West Nile Virus (WNv) is a flavivirus that in infected humans causes head- and body aches, fever, skin rash and swollen lymph nodes. More serious effects occur if the virus crosses the blood-brain barrier. This event leads to development of encephalomyelitis and possibly to death. Mosquitoes that feed on infected blood from birds may become vectors for the transmission of West Nile virus to humans and animals. This accounts for the majority of cases. Humans are at risk if they contact infected animal blood or tissue. WNV was originally isolated in the West Nile region of Uganda in 1937. Currently, the virus is commonly found in Europe, the Middle East, West Asia, and Africa. It first appeared in the Western Hemisphere in 1999 in the New York City area. It was found again in birds and mosquitoes in the early spring of 2000 and spread throughout the eastern United States. The first human cases of WNV in Toronto were reported in 2002 including 163 cases with 112 deaths. The prevalence decreased to 1 case in 2010, but it has increased substantially in the 2001 and 2012 seasons.
Mosquito pools are useful to evaluate WNv risk since positive pools tend to occur in specific areas. Seven species or species- groups most strongly targeted for testing are:
Culex pipiens/ Cx. restuans
Culex salinarius
Culex tarsalis
Aedes (Ochlerotatus) japonicus
Aedes albopictus
Aedes canadensis
Aedes vexans vexans/ A. vexans nipponii complex
In all, 20 Ontario mosquito taxa have been detected as carriers of WNv. The weekly monitoring of these carriers is a high priority for public health officers, and rapid and accurate detection of carriage and vector identification are needed. Additional testing may be required if positive vectors attain unusual levels in any geographic areas within the region monitored.
This test identifies adult mosquitos using morphological identification by stereomicroscopy. Confirmatory identification by DNA sequencing is available, if necessary. Assessment of specimens for WNv is accomplished by RT-PCR with generic and envelop-specific TaqMan PCR assay.
Sample collection
Several types of traps have been designed for use in the collection of mosquitoes for vector monitoring purposes. The suitability of individual trap types is generally guided by the application, following the manufacturer's instructions;
Traps should be sampled for 24 hr;
The trap catch should be collected in a transport container, suitably clean screw-top polypropylene jars, according to the volume of the capture; and,
Collection jars should be wrapped in bubble packing and placed in a transport cooler on blue ice.
Information required
Prior to sending samples, please contact Dr Arocha-Rosete (yarosete@sporometrics.com) to verify proper collection and transport methods;
Keep a copy of the sample submission form for your records;
Attach to the samples to be shipped to Sporometrics Inc; and
Shipment to Sporometrics Inc. should be by by overnight courier on blue ice, and quoting the address specified at the bottom of the page.
Laboratory code: WNV
Service options